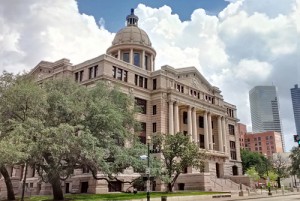 HOUSTON, TEXAS: Fast Cut Films, the commercial division of VideoFiles Inc. recently completed production of the broadcast, PBS documentary "The 1910 Harris County Courthouse." The film follows the 102 year history of the courthouse from its grand opening on Texas Independence Day, March 2, 1910 through the "wretched" remodeling in the 1950's and through the $65 million restoration and re-grand opening in 2011. A film project of Texas Foundation for the Arts. Filmed and edited by Director of Photography, Mark Susman. Produced by Jim Bailey and Kim Lykins.
Produced in cooperation with HoustonPBS
Major funding for this program provided by
The Albert and Ethel Herzstein Charitable Foundation
Fulbright & Jaworski LLP
Strasburger & Price LLP.
Additional funders:
Andrews Kurth, Beck Redden & Secrest, Beirne Maynard Parsons, Bracewell & Giuliani, Rusty Hardin & Associates, Vinson & Elkins
Preview clip:
Additional information:
Houston CultureMap: After a $65 million makeover, the historic Harris County Courthouse becomes a movie star