COURTROOM TRIAL PRESENTERS
VideoFiles Inc. presents legal video depositions and demonstrative  graphic testimony evidence for trials in courtrooms
across the United States. We are strategically located in Houston, Texas, a hub city with easy access to flights anywhere in the country. Trials we've  covered include New York, Miami, Philadelphia, Houston, Dallas, Austin, San Antonio, Beaumont, Texas, Arizona, Nevada, Arkansas, Mississippi, Chicago, St. Louis and Silicon Valley.
Best Practices at Trial
Pre-trial document and video preparation
War room and courtroom setup
Experienced "hot seat" presenters
VideoFiles is truly your technology partner. We do the heavy lifting and take the stress out of using technology at trials and meditations. We present video testimony, documents, exhibits and all of your evidence using state of the art trial preparation and presentation software.
We simplify complex courtroom case management technology to make your job easier. We empower litigators with easy to use, proven, tested and supported litigation software. We provide state of the art hardware such as Elmo, Digital document cameras, monitors, PA audio, scanners, pdf and tiff document management. We have the knowledgeable staff, training, support, cloud storage and video streaming expertise, graphics designers, and trial technicians  to assure stress-free confidence at any trial, arbitration or hearing anywhere in the world.
We support all the major trial management software platforms including CT Summation, Visionary, Sanction by Verdict Systems and Indata Trial Director.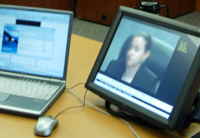 We have a 2-minute demonstration that covers our service, the software, networking, and online document review tools. You will be meeting with a member from our support team, the same support team and trial technicians  that will be at your side during trial.
We work with litigators in any size lawsuit from just a handful of exhibits and videos to tens of thousands of exhibits and hundreds of videos. Give Video Files a call and see first hand how our case management techniques will save you time, save you money and deliver results. Contact Mark  Susman at 713-622-5515